Two Must-See Sights in Jamaica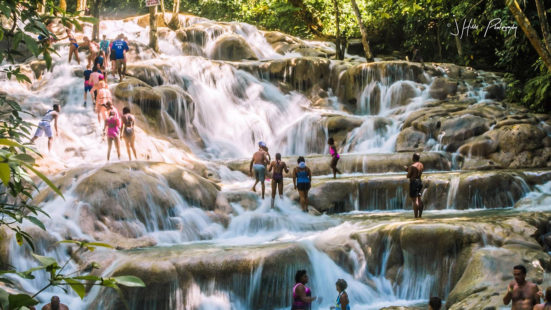 Jamaica is stunning ! From the serene white sand beach to the lush green rainforest and the beautiful tucked away caves and caverns that feel secret from the rest of the world, you'll find yourself longing for Jamaica long after you leave.
The third-largest island of the Caribbean boasts of many beautiful sights to see. So many that it seems almost impossible to fit everything in. And truth be told, it may be impossible. Especially if your time on the island is limited.
But if you're scrambling to put together an itinerary that will leave you breathless and in awe, we've got two destinations that when seen and experienced will surely make Jamaica an annual vacation spot.
These photo-worthy falls are the perfect way to get a little adventure into your itinerary. These falls are especially known throughout the entire world for their ability to regenerate themselves using deposits of travertine rock that form from the calcium carbonate in the river that flows over the rocky lumps – these falls are actively growing.
The best part?
You get to climb them! As long as you have a tour guide with you, you are more than welcome to challenge yourself and build a bond with those with you as you all work together to climb to the top of these falls. (Forming a human chain seems to be the most popular choice)
But if getting wet isn't your idea of fun, there is another option for a dry climb. Although the only way to get to the summit is via the wet climb.
Regardless, you'll want to bring a pair of grippy wet shoes with you to this tourist attraction.
The Dunn's River Falls are the perfect place to feel like a kid again. You get to climb, meet new people and help each other get to the summit of the falls. Plus, there is the added convenience of a market, a beach, and plenty of amenities that will ensure that your day at Dunn's River Falls is perfect.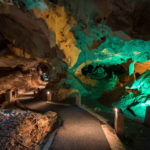 The Green Grotto Caves host some of the most fascinating and breathtaking sights to see on the island. Full of rich history and adventure, these labyrinths should be on everyone's bucket list. These caves host a colorful past of being a literal treasure trove for pirates, rum storage for the Jamaican government, and even a nightclub by a rich and eccentric family who owned the island in the '80s.
You can book a tour and step into the story yourself. While you're wandering across wooden walkways and staring into the mysterious depths of the caverns you may find yourself recognizing some of it from the 1973 James Bond movie "Live and Let Die" as the villain Kananga's secret lair.
Perfect for classic movie fanatics, geologists, or just anyone who wants to experience a once-in-a-lifetime tour in historic caves, the Green Grotto Caves are the perfect mesh of natural wonder and thrilling history that will have you on your toes every step of the way.    Our customer service agents are available to assist you 24 hours daily:-

Email: info@jamaicaquesttours.com

Telephone Number: +1-876-774-6813

Telephone Number: +1-(876)798-1566