Jamaica Quest Tours Safety Protocols During Covid-19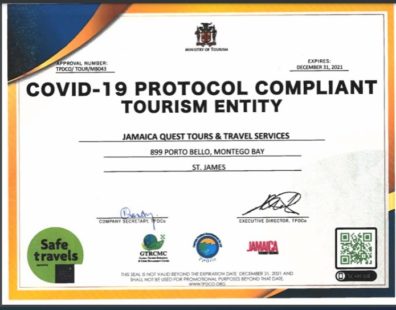 Jamaica Quest Tours Safety Protocols During Covid-19
Travel safely with Jamaica Quest Tours, we provide a superior travel experience for our clients. We offer a safe travel solution so put your mind at ease. We take all the necessary precautions to protect our clients and employees.
Privacy and safety:
Now it's the best time to book private airport transfers and tours, instead of traveling by other people on a crowded bus. All airport transfers and tours are private, so no need for you to share your space.
Our New Health Protocols:
Infrared thermometers will be used for frequent temperature checks of all drivers.
All of our drivers are equipped with sanitization kits.
Drivers are required to wear masks at all times.
Guests must sanitize their hands while boarding our vehicles with the sanitizers that are provided.
Safe and Secure Travel Conditions:
Vehicles are sanitized and fogged with an Electrostatic Sprayer before every trip. The sprayer consists of an EPA approved disinfectant.
All vehicles are equipped with a hand sanitizing station, where guests are required to sanitize their hands before boarding.
We offer the Best Private Travel Solutions:
We understand your privacy and safety are both important and therefore we provide the best private travel solutions with no sharing of your private space with other travelers.
Online Reservations 24 Hours Daily:
Book your reservations online, and our agents will be happy to assist you twenty-four hours of the day. Trust Jamaica Quest Tours for the best traveling experience.