Ocho Rios Cruise Destination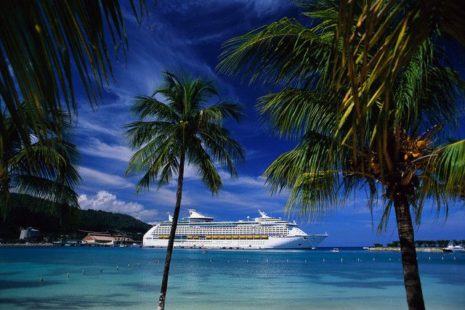 Ocho Rios takes its name from a well-known Spanish word "Las chorreras" or waterfalls. It speaks of the stretch of small coastline east of the town, in which a series of streams cascades out of the limestone. The town is usually a hub of activity, with an intensity making it always in constant motion.
Ocho Rios is one of the leading cruise terminus in the Caribbean and one of three cruise ship ports in Jamaica. The port first used for the shipping of bauxite, limestone, and sugar. But these days it's primary function is just as a luxury cruise ship port. Bargain searchers should head straight for the crafts market. Gourmets can delight in cooking joys of elegant, fast food restaurants and local coffee bar.
Dunn"s River Waterfalls, Bob Marley birthplace in Nine Miles Browns Town, Dolphins Cove, and unique duty-free shopping are many of the most popular things you can do in Ocho Rios. No matter what you decide to pursue, a day in Ocho Rios would be a day always to remember.
You can take several  of  our  sightseeing tours or shore expeditions to some of Ocho Rios best-known attractions & tourist destinations including Dunn's River Falls, legendary Bob Marley birth home, Blue Hole, Dolphins Bay, Fern Gully, White River Rafting,  tropical Rainforest Bobsled at Mystic Majestic Mountain, River Tubing, River Kayaking, Green Grotto Cave, Zip line.
The Port Authority of Jamaica acquired the Port of Montego Bay in 1986. It is the island's second international port. Port Handlers Limited, a private corporation, manages the port by having a management contract. The facilities include:
A 2694 m2 luxury cruise ship terminal
Roughly 427 meters of berth
1.3 hectares of yard space for vessel storage
1858 m2 warehouse
Operations include both cargo and cruise ship activities, where Berths 5 and six are employed exclusively by cruise lines.
Ocho Rios – The Port of Ocho Rios includes two facilities:
Reynolds Bauxite Pier of BATCO and used from time to time to dock luxury cruise ships.
A devoted luxury cruise ship pier belonging to The Port Authority of Jamaica and managed by Lannaman & Morris Shipping.
The Reynolds Pier is known to be 274.3 meters long with a highly suggested vessel draft of 12.2 meters and accommodates both passenger and cargo ships.
The luxury cruise ship pier has two berths-  Berth One is 222 meters, and Berth Two is roughly 274.3 meters long. The suggested draft is 9 and 9.75 meters respectively.
Jamaica is well known for much more than its Bobsled team! The small city of Ocho Rios is the critical gateway with a plethora of sightseeing and many cultural experiences on the North Coast of the island.
Originally a fisher's village, Ocho Rios, and Montego Bay Pier Jamaica have grown into an essential port of call for cruise ships, and a bustling economy has developed around the free flow of tourists.
How to Get to Ocho Rios:      
The cruise port is situated in suitable walking vicinity to downtown Ocho Rios, a mid-sized town with six shopping plazas along with an abundance of bars and restaurants. The taxi drivers around the pier are known for being very hostile. Be civil in rebuffing their solicitations, but don't allow them to intimidate you.
Port Information
The official language of Jamaica is English (with their distinctive accent), and the currencies are the Jamaican Dollar or even the US Dollar. When you're planning a trip to Jamaica, and you want to use  Montego Bay airport transfers, you deserve the most stress-free vacation possible.
Having a dependable ground transportation back and forth from Montego Bay Airport can assist your trip to go smoothly, there is absolutely no better airport transfer service intended for your ground transportation needs in Jamaica than our service. One of our most extensively used services is our Negril Jamaica airport transfers.
Montego Bay Airport Transfers in Jamaica :
Montego Bay Airport transfer service gives you and your guests to travels in comfort, and never having to worry about finding taxis or becoming crammed into a crowded resort or free shuttles.
Our official transfer service from MBJ Airport is very private, only you along with your party will be inside the vehicle. You can always relax, unwind and leave the driving to your well-trained drivers, book your arrival or departure transfer along with us today.
If you want to enjoy an unconcerned vacation  in Jamaica?  Experience the warmth of the island along with the great hospitality of the people of Jamaica? The proper way is to book or reserve your holiday at Jamaica Get Away Travels Transportation and Tours. Our Transportation and Tours service provides a variation of the one way and round trips, hotel pick-ups, private airport shuttle or taxis. Our specialty lies in personalized shuttles to or out of your destination.
By making use of the latest most luxurious model Vans, Mini Buses, Limousines, Town Cars, SUV's and Coaches, we guarantee an incredible Jamaica Vacation experience with the best private ground transportation and tour services.
Owing to our over ten years experience and professionalism, our Transportation and Tours put together an excellent list of the best Jamaican Tours you can find on the island of Montego Bay Pier Jamaica.
We usually offer day trips, cruises, sightseeing tours, guided tours, wildlife adventures, safari tours, fishing and others. In other words, we offer the most beneficial excursions island wide to ensure you make the best out of your vacation and provide you once in a lifetime experience visiting Jamaica islands of Ocho Rios Cruise Ship Pier and Montego Bay Pier Jamaica!
Common attractions currently when you visit Montego Bay, Negril, Ocho Rios, Kingston, Montego Bay Pier Jamaica and the South Coast are:
Catamaran Boat Voyage or Booze Trip
Ascend the Dunn's River Falls and Shopping
Zip Line Canopy
Pelican Bar
And more wonderful Jamaican tours and attractions.
Besides all of the above mentioned, our Transportation and Tours even gives other services like:
Limousine Transfers island wide
Helicopter Flights to more than 200 Destination Island wide
Shore Excursions from Montego Bay, Falmouth, and Ocho Rios Cruise Piers
Cruise Ship Transfers
VIP Transfers from Ochi Rios to Montego Bay
Chauffeured VIP Limousine, Town Car and SUV Transfers
Water Sports activities in all foremost destinations in Jamaica.
Montego Bay Cruise Ship Shuttle & Taxi Service
After all, who would not want to go to the "Land of Wood and Water," the home of the great legend "Bob Marley" along with the fastest man on earth "Usain Bolt," once in their lives! So, don't wait to give us an appointment or visit our website.
Our Jamaica Custom-made Vacation and Tours, VIP Town Car transfer is the recognized Sedan car VIP chauffeured transportation professional, servicing Jamaica with reasonable, dependable and comfy luxury sedan car transportation. For business or enjoyment, for big or small groups, we're capable of providing you with personalized service and individualized care.
Our guaranteed courteous, expert, reliable airport and hotel luxury car service makes your journey pleasurable; our goal is to provide you with the finest VIP chauffeured transfer imaginable.